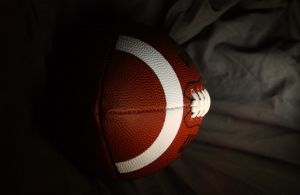 Hello all,
Last Sunday afternoon was a special Sunday. For the first time in nearly 4 years I was able to watch my beloved NFL football (American style) on a Sunday afternoon! It was the first ever European hosted regular season game that was played in Wembley Stadium in London featuring the Miami Dolphins and the New York Giants. The time zones weren't an issue and my South African neighbor's satellite and spontaneous hospitality created a reality of something I used to normally do long ago. Although I have watched the annual Super Bowl the last three years (the only games I've seen live since moving to Switzerland) it just wasn't very "normal" with time zone differences watching from midnight to 4:30 in the morning. It wasn't quite the same as a Sunday afternoon, and my work ability the next day obviously suffered as well. What was so cool about last week was experiencing it with others as well. Another American family joined in the normalcy and the South African family learned a lot about U.S. culture and a really cool game. It was just like old times, enjoying a game amongst friends and it wasn't even important who would win or lose; just the experience was worth it all! (That is, unless the Denver Broncos were playing!) What I was most proud of was when my son Silas was able to explain part of the rules (pass interference) from his football "lessons" that he's been getting from daddy and Nintendo. Really, it just felt so NORMAL, although I hadn't had the opportunity for years. It was simply a great Sunday afternoon!
So by now you might be thinking: what's the point? It's been very encouraging the last several months with experiencing our growth at LIFT. What makes me more excited is that many new folks have said that just by entering our LIFT community and/or worship service they feel welcomed, encouraged and have found a place to belong amongst others who care. Often we Internationals can feel awkward and lonely in a foreign place, but worshiping together on Sunday or just hanging out with others of LIFT, simply feels "NORMAL" in a good way! For me this approaches what the Kingdom of God is supposed to be like; to love God and love others (simply stated from Mark 12)! Regardless of cultural backgrounds, church backgrounds or one's nationality on their passport, as Followers of Jesus, we can come together and it can feel "normal", in love and fellowship and worship. Regardless of the style of worship services or songs or preaching you may have had before, it feels "normal" to come alongside others as fellow Christians with hearts seeking God! This is the body of Christ and the "normal" aspect is the Holy Spirit touching us and uniting us together in the body of Christ! This is LIFT- The International Church of Zug!
Below is LIFT's mission statement that sums up what we're about. We also express that a core value for us is being counter culturally friendly!
We are "people", with many different backgrounds, nationalities and even languages – though English is our common language – that come together to seek to worship and glorify God through our lives, fellowship with each other, grow in our own personal faith, serve Him and each other, and share our faith with others around us, – all for the kingdom of God in the area of Zug, Switzerland! BELONG! BELIEVE! BECOME!
You are more than welcome to come and feel "NORMAL" with us this Sunday. We will be meeting at the larger venue at the Kirchgemeindehaus of Zug's Protestant church as it's the first Sunday of the month. I hope to see you there!
In His grip and grace,
Corey