Hello Everyone,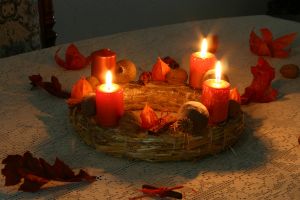 Actually coming from this American's perspective it should read "Advent Season?"…..notice the question mark.   This concept is really something new to me.  I've heard the term and understood the basics in regards to it being about expectation of the birth of Jesus at Christmas time, but that was the extent of my understanding.  Being here in Switzerland for my first Christmas season, this concept is much more than just a kid's calendar with little chocolates behind each day's door until Christmas, it's being "advertised" everywhere.   So what is the point?  Pastor Tom of the International Baptist Church of Zurich stated it very well this past week during the introduction of the service.  He acknowledged that for Westerners, especially Americans and Canadians (which he is), this concept is not traditionally a strong focus of the Christmas season.  He put it into perspective for me very well using the illustration of a telephone call that he received about 14 years ago in Canada during the middle of the night from, Hanni, who is now his wife.  Her reply was a simple but yet life changing, "Yes!".  And for Him, his "advent" had begun.  The HUGE expectation and looking forward to being reunited with the love of his life, and then united in marraige was in full effect.  Yes, his "advent" and excitement was profoundly bursting inside and he couldn't wait for the day!!!!  SO THAT'S WHAT IT'S ALL ABOUT.  Looking forward, with extreme enthusiasm for our most wonderful Christmas gift ever, Jesus Christ!
How about looking beyond just this Christmas season in regards to our joy expectations of Jesus' coming and reuniting with us forever.  Now, that's something to look forward to!  A few "clips" are below from the book of Revelation in regards to looking forward to Jesus' return.
___________________________________________

Rev 1:3 Blessed is the one who reads the words of this prophecy, and blessed are those who hear it and take to heart what is written in it, because the time is near.
Rev 19:11 I saw heaven standing open and there before me was a white horse, whose rider is called Faithful and True.
Rev 19:16 On his robe and on his thigh he has this name written: KING OF KINGS AND LORD OF LORDS.
Rev 21:3-4 And I heard a loud voice from the throne saying, "Now the dwelling of God is with men, and he will live with them. They will be his people, and God himself will be with them and be their God. He will wipe every tear from their eyes. There will be no more death or mourning or crying or pain, for the old order of things has passed away."
Rev 22:20-21 Amen. Come, Lord Jesus. The grace of the Lord Jesus be with God's people. Amen.

____________________________________________
Notice that one is "blessed" by simply reading Revelation and taking it to heart.  Imagine what it will be like when heaven opens up and Jesus comes!  Life is easier when we view it with the perspective of eternity.  Somehow, just knowing that in the end we will be with Jesus forever without any tears or pain, it makes our problems and circumstances of today more tolerable and THERE IS HOPE!
The name of our ministry, LIFT, has a few "added" meanings to it and one is "Living In Forever Today".  It simply means that the day one accepts Jesus Christ into their life, they have an eternal relationship with Him that began that day.  It doesn't mean we have to wait until we die and are in heaven to be and know Him, this eternal relationship has already begun.   ENJOY YOUR RELATIONSHIP JESUS TODAY, and LOOK FORWARD WITH JOYOUS "EXPECTATION" OF HIS FUTURE RETURN!
In His grip and grace,
Corey
Luke 10:2-3
"The harvest is plentiful, but the workers are few. Ask the Lord of the harvest, therefore, to send out workers into his harvest field. 3 Go!

NIV