Hello Everyone,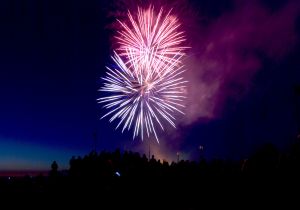 I recently read a great reminder of a "GOD'S EYE PERSPECTIVE" versus our human perspective.  A pastor had a large timeline (about 7 meters long) that he would hang across the stage behind his pulpit with time from the beginning, from Adam and Eve, Noah, Abraham, Moses, to Jesus, and several more Bible stories and historical happenings all the way to today. He would then walk up to a character such as Moses and with a black pane of glass, block the future view of this large figure. Moses could only SEE the past behind him and what was directly around him, but he could not see the future through the pane of dark glass.  He could look back and see God's faithfulness in creation and delivering His people time and time again, but Moses did not know what the future held and what was still to come.  Another wonderful point that this pastor would show is that Moses did have another direction to look, and that was straight UP, to GOD!  You see, God has a different perspective, which includes the past, present and the future and He knows how it's all going to turn out.  In fact, the Bible says in Romans, "And we know that in all things God works for the good of those who love him, who have been called according to his purpose." (Rom. 8:28)
In a few hours we will be toasting in the new year, or as the Swiss say, "sliding" (rutsch) into the new year…………   Don't forget to look back on God's faithfulness and LOOK UP and SEEK God's perspective too for your future!  As you begin this new year, I encourage you to walk with God in a closer manner, earnestly seeking Him in directing your life and cirumstances.  Draw near to Him, and He WILL draw near to you!!!
I wish you all the best this new year.  God has His plan for you………..go and live it!!
In His grip and grace,
Corey
_______________
OH YEAH, ABOUT THE NEW YEAR…??….??………….
THE LAUNCH IS COMING JANUARY 23rd AT VORSTADT 30!!!! (Down by the lake in Zug)
CHECK OUT OUR LIFT WEBSITE at www.liveitandgiveit.com and see our new updates in regards to "GOING PUBLIC".
-Jan.  9th and 16th- the Best's will be hosting LIFT -OPEN HOUSE nights from 18:30-20:30 at their home in Inwil (Baar). This will give you the opportunity to meet and get to know some of the people that are helping form this new ministry! Call or drop by for some fellowship, food and perhaps singing a few praises to our Lord!
-JANUARY 23rd- LAUNCH DATE-  WE WILL MOVE TO VORSTADT 30 DOWN BY THE LAKE!!
Luke 10:2-3
"The harvest is plentiful, but the workers are few. Ask the Lord of the harvest, therefore, to send out workers into his harvest field. 3 Go!
NIV