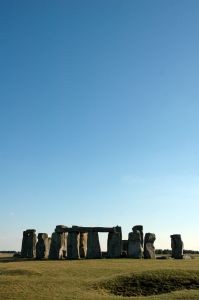 I looked back into my old files and found this writing regarding standing stones.  It is relevant to use it again with a couple of changes as we head into 2007.  What an amazing year these past 12 months have been to see how the Lord faithfully provided and blessed us at LIFT!
 
 
STANDING STONES OF 2006
Hello All,
 
This past week at LIFT was a celebration point in time, or I should say another "standing stone" in the existence of LIFT- The International Church of Zug. Our very first Christmas (Eve) services!  As we say we use the Bible and the English language as common tools to share the Gospel Message, the message of Christmas IS the Gospel! What an experience as family, to have had about 65 people gather together Christmas Eve to sing carols and hear the message of Christmas from Luke 2!
What do I mean by "standing stone"?  In the Old Testament, God's people didn't have computers and video recording equipment to tape and replay important events. What they did instead was take rocks, stones or pillars and stand them up or stack them up. This pile of stones, (or sometimes a huge stone) would stand tall as a MARKING POINT. Usually this coincided with a "worship service" of declaring what God had done and how this stone was to be a testimony to God. As they saw it in the future, they would remember what the Lord had done. Sometimes the stones were stood up as a statement of "changing their ways" (after a period of Godless living) and proclaiming that they turned back toward God, and the standing stone was a point to remember the commitment.
What was really cool is how these stones were a "testimony" to later generations, even sometimes hundreds of years later (or in our case millenniums later). As a family was traveling, in their culture the children knew standing stones meant something, and the kids might have asked something like "Daddy, what happened here?" And the father was able to share what the Lord God had done for their people in delivering them, etc. etc.
As we look back at this past year, or as you look back in your life, there are many standing stones. Some are stones standing as praise to wonderful blessings the Lord gave us, some are stones that are amidst very difficult times in life, but yet, they are standing there to remind us of our continued walk with our God.
Early in 2006, one great stone was stood up marking the launch of a children's ministry that now gives our kids, the next generation of the church, a time of teaching and Biblical training during the sermon time. Thank you, Kristin and Tanya, who so selflessly have served every week in this ministry! Later in the year, CLUB LIFT was launched giving additional monthly training of our youngsters in a fun way! What a wonderful praise and perhaps these youngsters will be "living stones" with the Gospel message during their lifetime! 
 
Other stones from 2006 were the continued momentum of the ladies ministry, who had several Bible/book studies and various events throughout the year!  And the men?……or should I say A-Men?  In October we had a men's retreat that has truly left an impact on many men who are still striving to grow in faith as stronger A-Men of God!  In the summertime, we shifted to a morning worship service time frame which has also provided LIFT with momentum and growth!  The Webster family coming alongside in leadership with the Eales' and us Best's has also been a huge blessing!  Of all the messages over the year, the message series about "The Body" stands out to me personally.  To have seen our LIFT body forming and working together in unity with all the parts working together for the entire body – this is the church of Jesus in action!    
As we look to the future to "conquer" life ahead of us, remember one more proclamation from a little boy of the Old Testament who turned a few stones himself: DAVID.  As a young shepherd standing before the king and stating what he was about to do in the near future, he was using standing stones from his past as a reminder of God's hand with him:
1 Sam 17:34-37 (David before taking on Goliath)
But David said to Saul, "Your servant has been keeping his father's sheep. When a lion or a bear came and carried off a sheep from the flock, I went after it, struck it and rescued the sheep from its mouth. When it turned on me, I seized it by its hair, struck it and killed it. Your servant has killed both the lion and the bear; this uncircumcised Philistine will be like one of them, because he has defied the armies of the living God. The LORD who delivered me from the paw of the lion and the paw of the bear will deliver me from the hand of this Philistine."
Saul said to David, "Go, and the LORD be with you."
Notice the standing stones of the lion and bear giving David the strength and faith to go boldly into the unknown future!
 
We serve an awesome God. "Go into 2007, and the LORD be with you!"
 
This Sunday, Ken will be sharing a message about God's faithfulness over the past and what the Lord has shown us.  The following week, I will share the message regarding future thinking and how we walk forward in faith with the Lord as the journey continues! 
In His grip and grace,
Corey
Ephesians 3:14-21
For this reason I kneel before the Father, from whom his whole family in heaven and on earth derives its name. I pray that out of his glorious riches he may strengthen you with power through his Spirit in your inner being, so that Christ may dwell in your hearts through faith. And I pray that you, being rooted and established in love, may have power, together with all the saints, to grasp how wide and long and high and deep is the love of Christ, and to know this love that surpasses knowledge-that you may be filled to the measure of all the fullness of God. Now to him who is able to do immeasurably more than all we ask or imagine, according to his power that is at work within us, to him be glory in the church and in Christ Jesus throughout all generations, for ever and ever! Amen.