CHRISTMAS 2004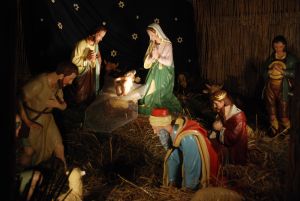 Hello Everyone,
It's the morning of Christmas Eve, the streets are quiet, as well as the house, not too much going on, not even the peep of a mouse………….yada yada yada ….ho ho ho….!
Somehow, this Christmas has been special for me, much more than just the normal American jingles, decorations, children's rhymes and traditions that I have been accustomed to. Maybe it is because it's my first Swiss Christmas or maybe it is due to all the changes in my family's lives this past year.  I'm not sure, but as noted a few weeks ago, my "Advent" season thus far has been of excited expectations and truly looking forward to celebrating the true meaning of Christmas, that of Jesus Christ, God's gift to us!!!
What is Christmas to you?  What are your family traditions?  Something we've started in our home the past few years has been the reading of the Christmas story in Luke Chapter 2.  We intend to continue this family tradition today or tomorrow as we gather around one another and hear the true meaning of Christmas read aloud.  It will just take a couple of moments, but we pray that for our own kids, they will grow to know that the real gift of life, is Jesus Christ!
In a few short weeks, we begin our journey together in taking the message of Jesus to Zug in a more "public" manner.  Attached is an advertisment that will be posted around town.  Perhaps you could print it out and hang it on an information board at the office or around where you live.  We will have updates on the website specifically pushing this launch to Vorstadt 30 down by the lake.  On Jan. 9th we will meet again at our home for the last couple of weeks in preparing this big step.  Please pray that God continues to lead and guide us in His work here!
We wish you all the "best" this Christmas and next year.  May God bless you and those around you!
In His grip and grace,
Corey