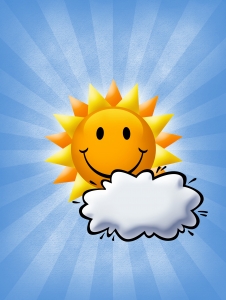 Hello All,
We certainly serve an awesome God!  I've been traveling this week for work (this time Wuppertal, Germany) and, as you can see, I am a little late with my weekly update.  Please forgive me and perhaps a little bit of pure "positivity" can help us all this next week!
"Positivity", is that even a word?  I'm not sure, but it's not being underlined so maybe it is.   The point is this, which was already stated above, We serve an awesome God!. It's true, simply true.  Whether we let ourselves believe it or not, doesn't change the fact.  God is awesome!  He is love and He loves us!
I'm kinda an eternal optimist, which of course from my perspective, is a positive thing.  What has helped for sure, is that the Lord has truly blessed me and I haven't experienced "too" much in life that I would consider major negative circumstances.  For this I thank Jesus. Perhaps some of you that are reading this, have walked through some very difficult circumstances (and/or may even now be living them).   For this, I pray that you find strength and perseverance to find the joy during these times.  Read James 1 (or even the whole book) and God can give you a better explanation (and comfort) than me, but somehow, it's in these tough times that make us complete as we make it through them. Not to mention, Jesus is with us all the way, perhaps even carrying us when we can't go on.
Life is good, even on this side of heaven, and God IS awesome and faithful.   For one last bit of "positivity", I end with this: Always thank God for the "here and now"!  Meaning, don't live in the past or too far in the future. For those of us living in the Zug area, we are truly blessed at the moment with some spectacular summer weather that's come early.  This makes even the half emply glass person feel and see the world through brighter glasses!  Considering I received an e-mail from a friend this week from Frisco, Colorado (where we moved from in the U.S) who says they got 8 inches (20 cm) of snow Friday/Saturday. It sure is nice to be living right HERE in Zug and right NOW with the winter wear all packed up in the cellar!
Have a wonderful week of worshipping Jesus as you do whatever you normally do.  He's right there with you and enjoying it when you are intentional to include Him!
In His grip and grace,
Corey and Tanya