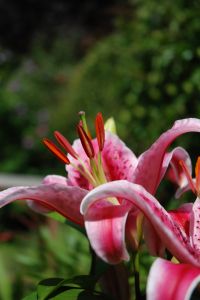 Hello All,
As I prepared the message for this week's LIFT service, I realized that I was totally ENJOYING myself. Yes, having FUN is a good thing. And to read the Word of God and dig deeper to understand what He said thousands of years ago, and what He is telling me right now is something to enjoy!  (And an amazing concept to grasp!) God's Word is timeless and transforming.
Yes, we can have a relationship by simple faith and belief in Jesus alone for salvation, but we can ENJOY and deepen our walk with Him by intentionally including Him in our lives and by reading His love letter to each of us! I hope you spend time reading the Bible. It might not always be easy to understand, but the process can only begin when you pick up the Book and see what's inside. Also, we can learn a lot from each other by encouraging, sharing and challenging each other in what we are finding in God's word!
The Gideon's (you know, the men and women that give away Bibles around the world, like in Hotel rooms, etc., often use a verse from the Bible, from Isaiah, that is so true regarding God's Word. Isaiah 55:11 says "so is my word that goes out from my mouth:
It will not return to me empty, but will accomplish what I desire and achieve the purpose for which I sent it." As they pray this before going out to distribute Bibles, they remind each other that God's Word will not return empty. And it's true! Below is more from this passage!
By the way, I am so thankful that the Lord gave me such a wonderful mommy that helped raise me to know Jesus as my Savior! God bless all of you mothers out there and the rest of you, be sure to call your mother and thank her too!
Happy Mother's Day and have a great week everyone!
In His grip and grace,
Corey and Tanya
Isa 55:9-12
9 "As the heavens are higher than the earth,
so are my ways higher than your ways
and my thoughts than your thoughts.
10 As the rain and the snow
come down from heaven,
and do not return to it
without watering the earth
and making it bud and flourish,
so that it yields seed for the sower and bread for the eater,
11 so is my word that goes out from my mouth:
It will not return to me empty,
but will accomplish what I desire
and achieve the purpose for which I sent it.
12 You will go out in joy
and be led forth in peace;
the mountains and hills
will burst into song before you,
and all the trees of the field
will clap their hands.
NIV