Hello everyone.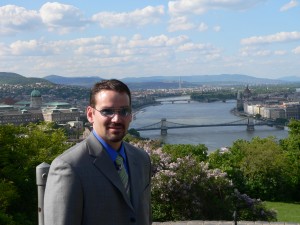 Greetings from Budapest, Hungary! (I have a business trip from Wed-Fri)
1- CREATION
2- CREATION GONE HAYWIRE
3- GOD RESTORING CREATION TO HIMSELF.
This is a main overall theme we've been looking at the past couple of weeks (and continuing this week too) regarding the Old Testament, and furthermore, a theme of our personal relationship with God/Jesus/Holy Spirit today. It simply is about how in the beginning God created everything in Genesis 1 & 2. How creation went "haywire", meaning, the entrance of sin into the world, the "breaking" of the perfect relationship with God, and then God restoring creation to Himself. As always, it's GRACE IN THE END. We see this pattern over and over in the O.T.
As I ponder the sights of what I encountered in Budapest, I couldn't help but somehow, include these concepts of what we've been looking at. It's a beautiful city, absolutely beautiful and full of so much history. For someone like me, from a country of just over 200 years of age, one can learn a lot from the past. There is a story to be discovered when one looks deep enough to find it! The magnificent buildings and bridges that I saw in Budapest were once created and spectacularly "perfect", then with war after war and occupation after occupation the last 1000 years, they were damaged, defaced, burned, and bombed, but then rebuilt and RESTORED to stand once again as a splendid display of beauty. Between the Turks, Austrians and World Wars, this cycle happened over and over. BUT TODAY, IT IS TRULY AN AMAZING SIGHT TO SEE AGAIN!
Here's the tie-in of what I am trying to communicate. We can compare the example of Budapest in some ways to our relationship with Jesus today. The initial point of salvation (CREATION of becoming God's child) is when we, by faith alone, accept God's saving grace and enter a new life and relationship with Him. (Justification and Regeneration for you theologs!) Then, even as a new creation, while still living in a sin-filled fallen world, we continue to struggle with sin, (the sanctification process) and our lives are often "damaged". God is faithful and He continues to "rebuild" us and some day when we are in His presence forever and sin is no more (glorification), we will truly be an amazing sight of God's glorious grace.
(O.K. without a chart, it may be hard to follow, but come to LIFT and you can get a visual aid via Powerpoint!)
Note: Our salvation – the CREATION of becoming God's child- only happens once and it's secure forever! The reality is that we seem to always live in this cycle being close to God, then going haywire, and then being restored again, then messing up again, etc. etc. And the Old Testament also shows this over and over too!
THE POINT: DON'T GIVE UP!! You're not alone, Jesus is with you, He has given you His Word and He has given you others to walk alongside in life (other Christians, LIFT, etc) and as always, IT'S GRACE IN THE END!
Have a wonderful week. Be sure to read the upcoming events below and hope to see ya soon on Sunday nights!
In His grip and grace,
Corey and Tanya