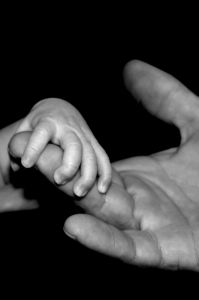 Hello everyone.
It has been a very interesting week for several families with the name Best. I'm gonna share a little about my family and some circumstances of this past week that definitely point to our Sovereign God who has the universe within His loving hands. (As both of my brothers receive these updates, I hope they don't mind I share a glimpse of their lives and families.)
On one hand, Eric (the middle brother) experienced "new life" in that they received a long awaited blessing in their newborn infant boy, Brayden Daniel Best, who was born on Friday, May 13th. How exciting it was to hear the trans-north American adventure of Eric and his wife Kim getting a first call regarding the birth of Brayden (it's a long story in itself, but they have been working through this ADOPTION process for months, after years of desiring another child) being a couple of months earlier than expected. Within 24 hours, they find out they are new parents (and Eric was 4 time zones away by the way) without even having the first package of diapers at home! What a wonderful and beautiful blessing.
On the other hand, Steve, (the oldest brother) and his family are experiencing a different kind of "new life" in that his father in law, Marvin Rieb, entered eternal life with Jesus on Friday. This was completely unexpected as his heart suffered cardiac arrest on Wednesday morning while still sleeping. As I write this, Steve and his three children are in route to meet up with his wife, Kris and rest of their extended family who now are preparing for funeral arrangement and life on earth without a husband, father, grandfather and friend to many. What a wonderful and beautiful blessing his life was and is.
At the very bottom of this e-mail, I have attached the 14th chapter of the Gospel of John. Somehow, as I searched the Scriptures tonight, I felt that Jesus' Words were, of course, better than mine expressing His love and purpose for our eternal lives with Him.
Please pray for Kris' family (Steve's wife) this week and the months to come during this time of her father Marvin going to be with the Lord. Also, may Brayden's life, be one of a new servant for the Lord Jesus Christ!
We worship an awesome and sovereign God, whose love never fails!
In His grip and grace,
Corey and Tanya
John 14
1 "Do not let your hearts be troubled. Trust in God; trust also in me.
2 In my Father's house are many rooms; if it were not so, I would have told you. I am going there to prepare a place for you.
3 And if I go and prepare a place for you, I will come back and take you to be with me that you also may be where I am.
4 You know the way to the place where I am going."
5 Thomas said to him, "Lord, we don't know where you are going, so how can we know the way?"
6 Jesus answered, "I am the way and the truth and the life. No one comes to the Father except through me.
7 If you really knew me, you would know my Father as well. From now on, you do know him and have seen him."
8 Philip said, "Lord, show us the Father and that will be enough for us."
9 Jesus answered: "Don't you know me, Philip, even after I have been among you such a long time? Anyone who has seen me has seen the Father. How can you say, 'Show us the Father'?
10 Don't you believe that I am in the Father, and that the Father is in me? The words I say to you are not just my own. Rather, it is the Father, living in me, who is doing his work.
11 Believe me when I say that I am in the Father and the Father is in me; or at least believe on the evidence of the miracles themselves.
12 I tell you the truth, anyone who has faith in me will do what I have been doing. He will do even greater things than these, because I am going to the Father.
13 And I will do whatever you ask in my name, so that the Son may bring glory to the Father.
14 You may ask me for anything in my name, and I will do it.
15 "If you love me, you will obey what I command.
16 And I will ask the Father, and he will give you another Counselor to be with you forever-
17 the Spirit of truth. The world cannot accept him, because it neither sees him nor knows him. But you know him, for he lives with you and will be in you.
18 I will not leave you as orphans; I will come to you.
19 Before long, the world will not see me anymore, but you will see me. Because I live, you also will live.
20 On that day you will realize that I am in my Father, and you are in me, and I am in you.
21 Whoever has my commands and obeys them, he is the one who loves me. He who loves me will be loved by my Father, and I too will love him and show myself to him."
22 Then Judas (not Judas Iscariot) said, "But, Lord, why do you intend to show yourself to us and not to the world?"
23 Jesus replied, "If anyone loves me, he will obey my teaching. My Father will love him, and we will come to him and make our home with him.
24 He who does not love me will not obey my teaching. These words you hear are not my own; they belong to the Father who sent me.
25 "All this I have spoken while still with you.
26 But the Counselor, the Holy Spirit, whom the Father will send in my name, will teach you all things and will remind you of everything I have said to you.
27 Peace I leave with you; my peace I give you. I do not give to you as the world gives. Do not let your hearts be troubled and do not be afraid.
28 "You heard me say, 'I am going away and I am coming back to you.' If you loved me, you would be glad that I am going to the Father, for the Father is greater than I.
29 I have told you now before it happens, so that when it does happen you will believe.
30 I will not speak with you much longer, for the prince of this world is coming. He has no hold on me,
31 but the world must learn that I love the Father and that I do exactly what my Father has commanded me.
"Come now; let us leave.

NIV