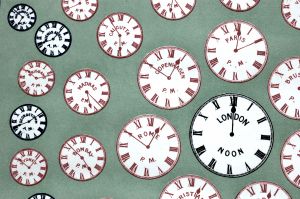 Hello everyone,
A while back, Tanya shared something with me that, on the one hand is quite simple and obvious, but yet on the other, quite amazing and vastly beautiful.
It's this: At any given time, God is being worshiped by His creation!
"24-7″ stands for 24 hours and 7 days a weeks.  It's true, God is always being worshipped.  From scripture we find that the mountains and valleys glorify His name.  The trees "clap" in worshipping Him.  Tonight we are even singing the song, Forever, by Chris Tomlin, which uses the Psalms passages of us singing praise because His love endures forever.  So Tanya, simply pointed out, that as the world turns, and the times zones change, some church (big or little, in a cathedral or a house), somewhere is worshipping God, and the Scriptures are once again, TRUE!
For me, tonight will be pretty cool from my little mind's perspective.  As we begin our Lift service here in Zug, Tanya and the kids will be also beginning a worship service at the Rocky Mountain Bible Church in Frisco, Colorado (U.S.A) AT THE SAME TIME, but morning for them and evening for us.  And somewhere in between, Stami and IBCZ began praising the Lord hours ago right here in Switzerland, and even earlier our brother and sisters in Christ were praising the Lord (while we were still sleeping) in places like India, Russia, New Zealand and Australia!
Here are just a couple passages to remind us of constant praise to Him:
Isa 55:12
12 You will go out in joy
and be led forth in peace;
the mountains and hills
will burst into song before you,
and all the trees of the field
will clap their hands.
NIV
Ps 98:4-9
4 Shout for joy to the LORD, all the earth,
burst into jubilant song with music;
5 make music to the LORD with the harp,
with the harp and the sound of singing,
6 with trumpets and the blast of the ram's horn–
shout for joy before the LORD, the King.
7 Let the sea resound, and everything in it,
the world, and all who live in it.
8 Let the rivers clap their hands,
let the mountains sing together for joy;
9 let them sing before the LORD,
NIV
Ps 66:4
4 All the earth bows down to you;
they sing praise to you,
they sing praise to your name."
NIV
In His grip and grace,
Corey and Tanya