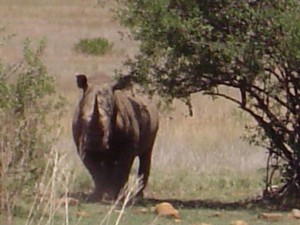 Hello all,
 
At LIFT we say "we are a people from many nationalities, cultures, languages and backgrounds that use the Bible and the English language as common tools to share the Gospel Message."  In short form, a diverse group of people that can find a place to "believe, belong, become" together as part of the body of Christ here in Zug!  Two weeks ago, I was able to get a glimpse of South Africa as I was there on business for the week.  After journeying at LIFT with so many South Africans (especially the Eales) it was an honor to smell the African air, see the sun set (upside down in the Southern hemisphere), and the highlight for me was an outing to the bush to see the great and mighty big animals that the Lord created and gave a home to in Africa! Actually the real highlight of the trip was being able to share a couple of meals with Gordon and Rean (and their lovely wives), the A-Men leaders that were here in Switzerland last October sharing faith with our men here.  (Greetings from them to all the A-Men here in CH!)
 
Back to the outing in the bush and the big animals, especially the rhinos!  It's not everyday that a guy is driving around with two colleagues and has to stop in the middle of a dirt road as a group of about 15 elephants walk across the path.  A few times it was a group of zebra and several times we just pulled over to the side and turned off the engine as nearby giraffes, wildebeest, African buffalos and of course a rhino or two were present. 
 
I was reminded of an illustration from a book* I read a couple of years ago that since then has inspired me to have some thoughts of my own. The illustration I am referring to is about the names of groups of animals.   A group of cows are called a herd.  A group of birds are a flock.  Whales are a pod.  Fish are a school and lions are a pride, etc, etc. The funniest one, especially with church polity in mind, is that a group of vultures is called a committee.  And the rhino?   A group of rhinos are called a crash!  What's truly interesting is that although they are a huge animal, they are extremely fast (more than 50 km/hr) and they run at a speed traveling a farther distance than they can see! So the truth is, they run on …. Faith! Although the rhino can't see very far he still goes full speed in confidence and without fear. I pray that we can all "crash" forward in life with faith and confidence in God. We don't have to pretend that we know what's ahead. We don't,  just like the rhino! But who cares that we can't see into the future? God is already there ahead of us and we can move in His direction with confidence and without fear! Faith … like a rhino! It may sound silly, but I thank God for continually showing us His glory through His creation and may we strive to have such a faith! By the way, I bought a wooden rhino as a souvenir in South Africa and it is now in our living room … as a faith reminder!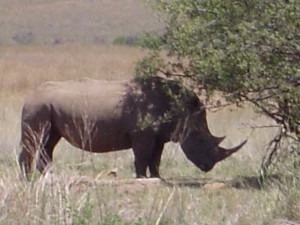 Currently we are teaching through the New Testament book of 1 John.  I hope to can join us on Sunday mornings!
 
In His grip and grace,
 
Corey
 
 
PS: A prayer request for LIFT:  On Tuesday night (8pm) we will be meeting with another local pastor from the State Reformed church regarding our request of using one of their community rooms for Sunday morning LIFT worship services.  We simply pray that God will clearly show us His plan regarding our space/facilities issue.
 
*  The Barbarian Way by Erwin Raphael McManus.