Hello All,
 
Our walk with Jesus is often called a journey of faith!  Fortunately we are never alone and Christ is with us, and fortunately He brings others alongside the journey as well. With others we get to fellowship, encourage each other and share each other's burdens.  Sometimes we journey a lifetime with those that the Lord puts in our closest personal life and sometimes we are blessed with journeys with people for years, or months or even an occasional divine encounter of meeting someone, even if just for a few minutes, that spiritually touches our soul!   Words won't fully express my gratitude to the Webster family this past school year.   Don't jump too far ahead, they are NOT leaving LIFT, but as I shared to the congregation this past Sunday, their "official" missionary service in Switzerland will call for them to serve the Lord elsewhere in Bern and St. Gallen on most Sunday's for the next several months as two other churches are in need of an interim pastor. At the same time, LIFT still IS their home church and Derek will be a part of the men's study, Melissa with the ladies, and David, Josiah and Ben will continue to hang with the youth and Club LIFT.  Furthermore, they will perhaps be calling you and/or your family over for a meal and expect frequent invitations back………..and did I mention Melissa is a wonderful cook!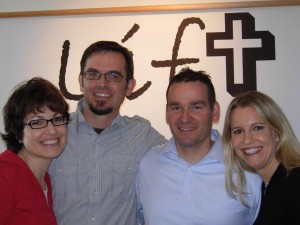 Looking back at their arrival to LIFT last year and how their presence at LIFT has been such a blessing.  Aside of their God given talents with music and singing, their simple hard work and commitment of week in and week out coming early to help set up, practice, bring snacks, etc, etc, etc are a testimony to an amazing missionary family whose official service is working with many other churches, ministries and special events full time!  Ken and I are so thankful to Derek's preaching support and passion that has definitely strengthened us in our own preaching.
 
It is with honor that LIFT is now, in a way, sending our Webster's out to serve others here in Switzerland with the Gospel Message of Jesus Christ! 
 
On a personal note; it is also with honor, thanksgiving and praise, that I have been able to journey with a brother in Christ, and I look forward to continuing the journey!!!!!!!!!!!!!!!!
 
We wrap up the Joseph message series this Sunday at the Kirchgemeindehaus venue! I hope to see you there!
In His grip and grace,
Corey