Lift The International Church of Zug   –  for Nov. 16th, 2008
Hello all,
 
A very full and very interesting week!  How about you?  As I write, I'm on a plane headed home from Istanbul, Turkey.  For a guy who loves and appreciates church history, the highlight was Wednesday's excursion into the heart of the city.  My Italian boss, who also is a history buff, especially when it comes to the Byzantine empire, the crusades and the Ottoman empires, was also with me this week as we worked with our new Turkish partner (a Muslim by the way) in setting up his company structure near Istanbul.  Istanbul was Constantinople prior to the 1400's and a city originally established in the 330's by Constantine who relocated his empire's capital city from Rome closer to the Holy Land and obviously strategically located for east/west trading as well. The Hagia Sophia, now a "museum" was a magnificent and massive church and focal point until 1453 when the Ottoman Empire (Muslims) conquered the city, renaming it Istanbul and making it the new capital city of their empire. The revered Sophia was converted to a mosque and considered a holy place for Allah and his followers for centuries.  Only a few decades ago in the late 1900's was it "secularized" and turned into a museum, now allowing world visitors/tourists to enter.  In the process of secularizing the holy place for historical purposes, many of the original mosaics and works of art were uncovered, including those depicting Mary and the baby Jesus along side the huge writings of the Koran still hanging as well. An ironic contrast of the mixed history of such an important place.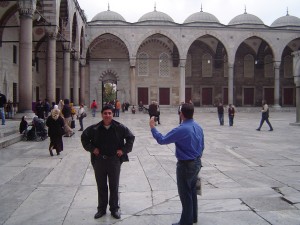 Walking a kilometer or so, we visited the nearby current Islamic holy place, the Blue Mosque, and entered the courtyard and eventually the mosque itself after the official prayer time (closed to non-Muslims) had ended.   Something to note, Turkey, especially the west of Turkey, is quite westernized, even trying to get into the European Union, so with that in mind, even for such a holy and sacred Muslim location, this mosque is intentional to be Western friendly and to show the openness of Islam.  However, it's my understanding that the more East that one travels, the smaller the chance of Westerners gaining access into the holy places of prayer such as this.  Regardless, for me, it was a rare and special  opportunity for a Follower of Jesus to witness and observe first hand the blaring call to prayer from within a courtyard in which when full approximately 18,000 Muslims kneel to pray.  Just outside the courtyard, I could see the cleansing stations where men can sit and take of their shoes to wash their feet, their mouths and so forth in preparation to come into the presence of Allah in prayer.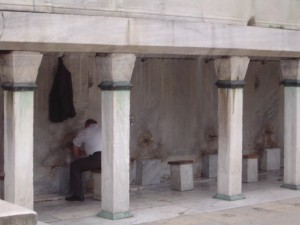 A friendly man (who wanted and later accepted my tip) explained the various points of cleansing (mouth, feet, head, etc 3x's) before prayer.  Most do it at home, but many do this cleansing at the Mosque as well.  Of course, if one thinks bad thoughts, looks into a woman's eyes with lust, etc, in the time from washing to entering the mosque, he must then repeat the whole process again.  After the official prayer time ended, we were able to enter and walk around the huge carpeted mosque.  Many were still coming and going for prayer, but the organized time (one of 5 daily) of all praying in unison was over.  The women had their own sections at the side and surrounding areas of the main floor space.   Something my boss had pointed out earlier was the lack of art and images, such as paintings of prophets etc that was in mosques.  Instead, there are  just large and decorate murals or banners with writings of the holy Koran.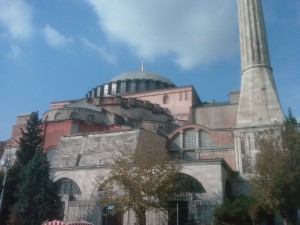 Sorry for the lengthy LIFT update this week, but even for myself, I wanted to write out my experience while it's still fresh in my mind.  I found myself also praying while at the Blue Mosque, but to God the Father, in the Name of the Son, Jesus Christ by the power of the Holy Spirit!  On one hand, I respect the deepness of the cleansing process in preparation of prayer that those people do, but at the same time, for most, it seems just a religious requirement that they thoughtlessly do because they have to (especially in the case of my business contact there, who only occasionally does the Friday prayers himself).  One must admit, the Christian church has plenty of religious traditions that have lost the original Biblical intentions as well.  Praise God that Jesus is our instant access to God; anytime and anywhere, with no church or "sacred" place needed, just us talking with God and including Him in our day, our actions, our thoughts and hearts! This too is prayer and what I believe Paul means when we are to pray without ceasing! (1 Thes. 5:17) Each morning, I was able to go down to the sea and spend time with my Lord Jesus and talk to God before a busy and tiring days of working (especially as this week I was the translator as our business partner speaks German, but not English).  I'm so ready to be home with my family and very much looking forward to worshipping our Lord Jesus Christ at LIFT this Sunday with many of you.   LIFT is a place that ALL are welcome, regardless of background, including other faiths such as Islam, while at the same time we will unashamedly teach and share the Gospel message of Jesus!   So even during our worship services and time of prayer, folks don't have to wait outside but can come inside to experience first hand what the God of Love is all about!
 
In His grip and grace,
 
Corey
 
PS:  For those that desire more information about the faith and history of Islam, I can recommend a few books that I've read that share great insight, and in love strengthen understanding for dialog to share Jesus with Muslims;  Unveiling Islam by Ergun Caner, Arabs in the Shadow of Israel by Tony Malouf, How Islam Plans to Change the World by William Wagner.  Three Cups of Tea by Tom Anderson isn't a Christian book, but great in cultural insight into the Islamic world.