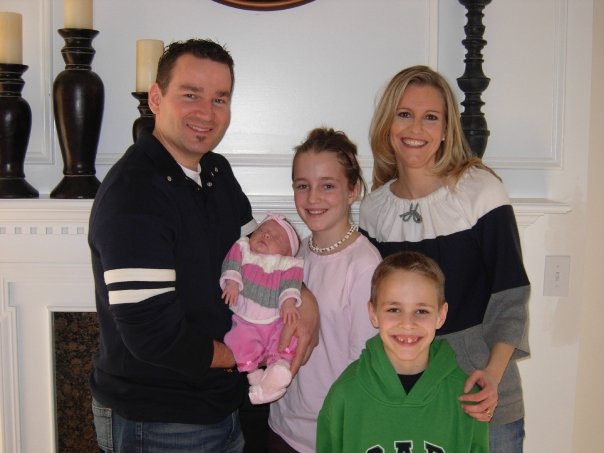 Hello All (from Greenville, South Carolina- USA),
Sorry for missing a few updates since 2009 started, but at least I have a good excuse! As most of of you know, our family has been blessed with the birth of our daughter Sarah Christiana who was born on December 31st 2008. On one hand, her birth and placement into our family is the wonderful blessing and somewhat completion of an amazing journey of faith and adoption. On the other hand, it is just the beginning of the overall faith journey in her life and our life as the Best family of five now.
Although, I am a future thinker, I just have to stop and look back and praise God for what He's done for our family in blessing us with Sarah and the beautiful story that He is writing into her and our lives while at the same time also looking forward to life ahead! After having Livia and Silas and not being able to have more children ourselves, Tanya and I began to seriously discuss adoption in 2007 and during our Christmas break in the US last year (07 into 08) the Lord confirmed in our hearts (with the wonderful encouragement and real life example of my brother and his wife who had also adopted a newborn while already having older siblings) that adoption was an open door for us to walk through in faith.
Just before our return to Switzerland we met with a Christian adoption agency there in South Carolina. January and February of last year were a couple of months of prayerful consideration as a family with Livia and Silas definitely part of the overall conversation. By March, we chose to go with God in faith to grow our family through adoption. A couple full months of paperwork (a lot of paperwork) including a home study visit from a social worker and we were approved, but then in the waiting phase of the agency working to match a birthmother with our family. Obviously for us, this "matchmaking" process had little to do with the agency and everything to do with God working through the circumstances in that before Sarah was born and while she was still in her mother's womb, He already knew her name and this is/was true for all of us.
Like any journey, there has been numerous experiences along the way, too many to note, but one special encounter was in July, while we were in the UK visiting my granny's roots at the farm she was raised on. In the very room that my granny used to sleep in as a child (and the same room my mother stayed in while in 1st grade) we had a special first conversation with a woman named Christian. For me, a touching point of paths of my family past and family future crossing while looking out the window across that special family farm and speaking to the woman possibly carrying our future daughter. Sarah's middle name is Christiana, intentional to carry a full meaning of the heritage of her birthmother's name and the meaning of her adoptive parent's spiritual heritage; both packed with love and giving life to Sarah's own journey! Although we didn't overly share too many details along the way this past year, we thank you – our extended family that we share life and faith with – for the love, prayers and support! We still have a few details to work out ahead, including an expedited passport for Sarah so we can return home to Switzerland, but clearly we are so thankful and praise the Lord for growing our family in such an incredible way. May Sarah's birthmother be blessed for her incredible "offering" of love and life, an act of love we will honor and cherish!
His grip and grace,
Corey