Hello all,
At LIFT, the preaching series the last months has been on the theme; "It's about RELATIONSHIP, not about RELIGION".  Bedros gave the message this past Sunday and wonderfully shared how a true relationship with God, through Jesus, is the point and purpose in life, not just religion or religious works and actions, whether Christian or other world religions……….it's a about a relationship with God!  As LIFT is so multinational in our makeup, it's wonderful to hear Biblical truths being taught through various cultural insights and perspectives.  Bedros is Armenian, but raised in Lebanon, now a Swiss national who has been in Switzlerland for about 20 years.  Hearing about muslim "religious works" from him with his Middle Eastern upbringing is very different and real versus reading about it.  As he shifted from various religious world religions and focused back to Christianity as a "religion" he wonderfully turned the focus off of religion and onto a relationship with God to what real faith is all about.  He even used an illustration including my encounter with a famous movie star from a year ago when I happened to run into George Clooney in Geneva while on business there, even getting a snap of his smiley whites (his teeth) on my cell phone.  The point is, that although I had seen and ran into him, I don't have a relationship (or friendship) with him, nor know him.  Bedros nicely turned this around for us to reflect that although many may have a picture of God in our mind (not our phone) that just a picture of seeing Him, isn't the same as knowing Him, and sharing life with Him, or including Him in our life. 
As I reflected on this and now put it into my own words, I think that often people only see a picture of God and miss out on walking with God and journeying with Him in life.  Like I was running around last September with my mobile phone and jokingly saying, "Hey, look who I met in Geneva", it was with a bit of sarcasm and obvious that I didn't really know George Clooney, I just was able to be in the right place to snap his photo.  (Maybe I shouldn't have taken the picture, but reached out and touched his arm?  Nah, I'm not a female…..and the photo was good for some laughs afterwards!)   Often, people only see or hear about religion(s) and even "try them out" for awhile, but don't take the opportunity to get to know the real God of the Universe.   How can you get to know God?  Go to church?  Light a candle?  Say a prayer or walk an old lady across the street (or any other good deeds)?  Although those things might not be bad things in themselves, but these religions works too often become the focus and end point in themselves (religion) and miss the real point on personally knowing God and His love for you and desire for you to include Him in your life.  Below, I'm attaching my original LIFT update from 2008 regarding the Clooney encounter which then gives insight to when I met and entered a relationship with Jesus. 
———————from Sept. 7th, 2008—————————-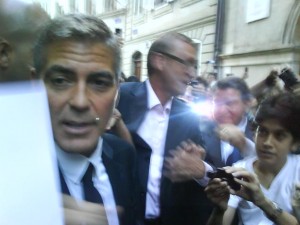 I saw George Clooney, who cares?
Hello All,
It's true, last night while in Geneva for a work function our Int'l Marketing team was touring the old city and while we were passing the Reformed Museum someone from our group asked why about 50+ people were hanging around the entrance.  It just so happened that George Clooney, Mr. Hollywood himself, was inside finishing a speech about his support of a US president candidate and was supposedly going to exit the building soon to go 20 meters across the alley into another building for his dinner event where $10,000 (or 11,000 CHF) can get you dinner in the same room with George. I'll admit, I couldn't help myself and since there wasn't a massive huge crowd, I thought I'd hang out to see if he really was to walk by.  (Of course, 5 or 6 ladies from my company's group of 15 decided to pass on the final few minutes of our guided tour as well in hopes of seeing George!)  Sure enough, 10 minutes later George walked by (with a little bit of pushing around between the security and the now 100+ people) and my strategic decision to stand right next to the door where he was going to, instead of coming from allowed me a good glimpse and a not so good picture on my cell phone of this Hollywood star.  In the end, I was close enough to have reached out and touched (which I chose not to) a huge Hollywood star. Five minutes later he was at his dinner, I was at mine and most likely we will never cross paths again………so who cares?  Really, it's not like I got to know him or started a friendship, or even had eye contact for that matter.  So clearly he doesn't care and I really don't either. 
But there was a time, when I was a teen when I had the amazing opportunity to meet another famous star! At that cross road I not only crossed paths in seeing this famous star, but actually got to meet him and start a friendship and relationship that is lasting a lifetime and will even continue for eternity.  Yes, this "Star" was, is and always will be the biggest Name of all time in the biggest true movie of reality……the Star of stars, the King of kings and Lord of lords, Jesus Christ!  At that life changing encounter, Jesus didn't sign a piece of paper with his autograph, nor stop for a photo, He instead signed my heart with His Blood as the ink and asked me to come with Him on a journey in which He will lead, guide and provide.  I don't need a photo to remember Him by because He is always there for me and I can look up and see Him in my life, anytime!
Jesus said in Mark 8:34-37, "If anyone would come after me, he must deny himself and take up his cross and follow me. For whoever wants to save his life will lose it, but whoever loses his life for me and for the gospel will save it. What good is it for a man to gain the whole world, yet forfeit his soul?"
I'll never forget that encounter when I first saw Jesus, when He said to come and follow Him!  George Clooney….who cares?  Jesus Christ…..  I care and so does Jesus, and so should you!
—————
Have a wonderful weekend, and if you don't already know the most famous person to have ever walked the planet, I pray you meet Him yourself personally.  Not just a digital image on your phone, not just an occasional visit in a church, not just lighting a candle or doing a good work, but actually meeting and having a real relationship with Him in your life!  Walking, talking, reading His letters to you, laughing, crying and sometimes just holding His Hand when words can't express what's on your heart! Yes, a relationship with God is what He desires from you, not your acts of religion! 
In His grip and grace,
Corey