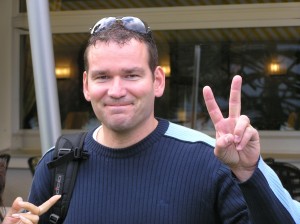 Hello All,
In a world full of titles and hierarchy, I just prefer to simply be me; Corey.  Some folks might consider me a pastor at LIFT-The International Church of Zug while others might consider me a "tentmaking missionary" in Switzerland (tentmaking is a term that is in reference to how Paul in the Bible worked making tents for income as not to be a burden on his church and that I too have a secular job to provide for my personal family finances).  Most of my weekdays have my name attached to another title amongst a whole other spectrum of work colleagues at the int'l headquarter of a German company or at various business partners' offices across several countries. Even at work, for the most part, I simply say, "I'm just Corey" when asked how to be addressed.  Aside of living in two worlds (faith and work) like a secret agent for Jesus, my second culture's language of (Swiss) German mandates a cultural norm of being addressed in a formal way, Mr. Best, until becoming "friends" and then it's again just Corey, but in many cases I have to be culturally sensitive to allow the other person to give me their O.K. first, to be on first name bases.  Now that I think of it, that's kinda like Facebook waiting for confirmation to be a friend with another! In the end, it's important for me to simply be me, Corey, regardless of titles and expectations others put on me or the circumstances around me.  What I do in life, doesn't define who I am in life.  I am a Follower of Jesus, a Christian who's not perfect, but by His grace, I journey in life trying the best I can to live my faith, worship and God's love…..and give it away!
A couple days ago, my 2 worlds crossed and you could say, I "outed myself" a bit with a work colleague.  Although a couple of people at work do know about my true passion in life as part of LIFT (being a pastor there), most of the time when faith comes up in discussions at work I, of course, don't ever share a title as a pastor or that I have a Master's Degree in Theology.  They only know me as Corey with the title from work and as far as they are concerned in the discussion their opinion is as theologically supported as mine.  I love these faith discussions and I don't seek to win a debate, but simply try to point people to Jesus…..not to my church. But regarding if I go to church, at one point the normal first faith question in Switzerland (and most of Europe for that matter) is whether I am Protestant or Catholic.  I'll answer something l ike "I go to a great international, non-denomination church in Zug.  It's a Christian church, contemporary with great music and relevant teaching……not what you'd normal expect at a church in Switzerland. We use the Bible and the English language to share the Gospel Message. It's cool because it isn't so focused on religion, but on a relationship with God."  The English language and international aspects are great to keep the conversation(s) going as it's a new fresh perspective to their "religious" background.   Well, sure enough on Tuesday, a work colleague (a non-Swiss), came and directly asked me for the directions and times of the worship services for "that Int'l church" that I go to in Zug, as I had given the above answer several months ago. I know the person well enough and engaged in a more open conversation about my involvement at LIFT. I shared that my purpose in life and moving to Switzerland wasn't about a career move but a family and life's purpose move of living my faith and giving it away.  What was a nice surprise back is that it seems both of us revealed that "what we do, isn't who we are" and both of our faiths are deeper than previously shared!
So I close with two thoughts as words of encouragement for you:
1) Be YOU, and don't let's the world's titles and expectations of others change who YOU are and who you desire to become as a stronger Follower of Jesus.  The Bible gives great points of being relevant to share Jesus with those around you, while at the same time, not letting the world around you influence who you are.
1 Corinthians 9:22-23  I have become all things to all men so that by all possible means I might save some. 23I do all this for the sake of the gospel,  -Paul
Romans 12:1-2  Therefore, I urge you, brothers, in view of God's mercy, to offer your bodies as living sacrifices, holy and pleasing to God—this is your spiritual act of worship. 2Do not conform any longer to the pattern of this world, but be transformed by the renewing of your mind.
2) Your NAME wasn't just chosen by your mom and dad by coincidence, it was known by God before you were ever conceived!  That's cool.  So when I say, I'm just Corey, I realized that God knows my name, God knows me and He always has.  And when you say "I am …….(fill in your name)"  God knows you, your name and always has! Even if you share a popular name like John, Michael, Michelle or Elizabeth, you are you and God knows YOU! 
Jeremiah 1:5 Before I formed you in the womb I knew you, before you were born I set you apart.  -God
I'm taking off for a couple of weeks to enjoy my family and some sun (and of course some Son of God as well!)  Will pick up in a few weeks with sending another infusion of encouragement of faith (e-FUSION) headed your direction! 
In His grip and grace,
Corey