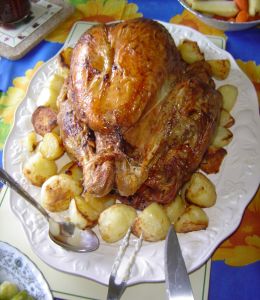 Hello Everyone,
I pray that you are all having a blessed week!
The month of November and especially this week of "Thanksgiving" (American Holiday) is a month of many celebrations for my family.  This month is the birthday month of my father, brother, brother-in-law's mother, wonderful wife and last but definitely not least, my beautiful daughter Livia who celebrates this year along with the "Turkey Day" celebrations of America on Thursday.
What does it mean to "celebrate"?  We can celebrate life each new day with our Creator individually.  We can have some special days of the year that are intentional to celebrate different events.  We can have a party, with a group of any size.  What and how do you celebrate in life?….Family?…. and your national traditions?
In the Bible, there are numerous celebrations.  With a simple word search on a computer program, I found the word rejoice(s) approx. 150 times and the word celebrate(s) approx. 60 times.  I believe one of the great aspects of the Jewish nation was that of celebrating "with" and "to" the God of the Universe, our God!  They celebrated with God in His blessings, provisions and victories.  They celebrated to God in Worship to Him.  Let's continue this today as we individually "celebrate and worship" our God, as well as coming together as a group and celebrating with and to Him!
Remember too, that when we do go to "church" it IS a celebration of our Risen God!!
In His grip and grace,
Corey
Luke 10:2-3
"The harvest is plentiful, but the workers are few. Ask the Lord of the harvest, therefore, to send out workers into his harvest field. 3 Go!
NIV